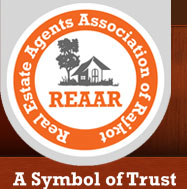 Rajkot Properties, Real Estate Rajkot, Buy/Sell Property in Rajkot, Residential Plots in Rajkot, Rajkot Realtors, Apartments in Rajkot
Real Estate Agents Association of Rajkot
Quick Navigation




Welcome to
Real Estate Agents Association of Rajkot
REAAR is an independent body for Real Estate Agents, Consultants dealing in property at Rajkot. We chartered our year on 01-01-2009 when a group of leading Real Estate Agents of Rajkot decided to form the association.
As one of the first Real Estate Association in the city with dedicated website on the internet (www.reaar.org), Real Estate Agents Association of Rajkot was founded in 2008 with the intention to provide unique information about every sectors of real estate.
National Association of Realtors - Inda (NAR INDIA) has been raised out as a national level huge tree representing the interest of different branches of realtors across India.
NAR-INDIA are to streamline and promote the profession of real estate brokerage in India so that we achieve transparency, accountability, fair dealing and ethical practices for overall good governance and customer orientation in the industry.
NAR-INDIA is the credible voice of realtors in India. Real Estate Agents Association of Rajkot has been affiliated with NAR-INDIA since 2010…
REAAR News Info
NAR-INDIA the apex national level organization of realtors...…

NAR-INDIA at a Glance ~ Member outreach in 24 cities...…

NAR-INDIA at a Glance * Member outreach in...…
REAAR Events Info
M1

H3

An Interesting montivational speech By Jay Vasavda was enjoyed by the family...

Best Practices of real estate training program was contucted by Mr. Sahil...

A demand for 2nd Family meet was fullied at Ishvariya Post. Even this meet...

A brief discussion and guidance regarding upcoming new courses for Real...

The first Marority all members with thier family attented the event full...

Dignitaries of NAR India, president Mr. Kalpesh Shah, Secretary Mr. Pramit...

Our Secretary Mr. Mehul Nathwani introduced New members and contucted...

Reaar & Rotary Club with joint hands have organised Blood donation...

Installation Ceremony of new REAAR team of 2012 with very informative session...
Real Estate Rajkot › Quick Links